Portal 2 Chapter 2 Test Chamber 4
Jump to navigation
Jump to search
"I can't get over how small you are!"
This article is a stub. As such, it is not complete. You can help Portal wiki by expanding it.


This is the thirteenth level of the game, and takes place within a dilapidated Test Chamber. This level continues to use the Thermal Discouragement Beam as its primary mechanic, and demonstrates the way in which interrupting the Discouragement Beam can be used to the player's advantage. The Test Chamber also introduces the Unstationary Scaffold, and Goo is present as the primary environmental hazard.
Contents
Mechanics
Track Platform
Laser Receptacles
Characters
Hazards
Locations
Aperture Science Enrichment Center
Test Chamber 04 (GLaDOS)
Walkthrough
Video walkthrough

Download demo file
Gallery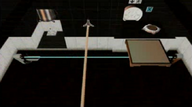 Earliest known version of Test Chamber 4  
An overview of the Test Chamber