Portal 2 Co-op Course 5 Chamber 4
From the Portal Wiki
Most beginners (or players who made a reset recently) get there from the 03 Bridge Repulsion, Course 5: Mobility Gels. Players can get there from the Hub when at least one player unlocked the 04 Wall Repulsion...
Mechanics
hazards
Walkthrough
Video Walkthrough
Images
Bugs
Skip 1st part
The first section can be skipped by redirecting Hard Light Bridge with a very precise portal shot...
Consistent results with pos: 221.01 258.73 80.79 ang: -29.95 147.92 0.00
Some results with pos: 218.57 259.39 80.79 ang: -30.01 147.74 0.00
Some results with pos: 214.81 261.80 80.79 ang: -30.19 147.74 -0.00
Skip 2nd part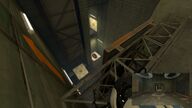 Run into the
portal
while moving mouse slowly to the left. Jump isn't needed.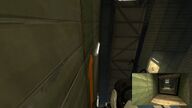 Players should land on the 3rd linear halogen lamp.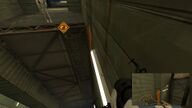 Second step is to make small jump. Nothing special here. Don't panic.  
"Nope, still can't see!"


This page would benefit from the addition of one or more images.




Please add a suitable image, then remove this notice.



"I can't get over how small you are!"
This article is a stub. As such, it is not complete. You can help Portal wiki by expanding it.