Portal 2 Chapter 6 Reconciliation
From the Portal Wiki
"I can't get over how small you are!"
This article is a stub. As such, it is not complete. You can help Portal wiki by expanding it.



This is the forty-first level of the game, and takes place within the Aperture Science Enrichment Center, Pump Station Beta and some dilapidated Aperture Science offices. Goo is present in this level as its main hazard. This level also reunites the player with GLaDOS, who accompanies the player throughout the rest of the game. This and the following levels were built later, in the 1970s, and Cave Johnson's recordings are much more cynical and sarcastic than those in the previous levels from the 1950s.
Contents
Mechanics
Hazards
Characters
Locations
Pump Station Beta
Catwalk Control Room
The Borealis' Dry Dock
Objective
Go through Old Aperture's Test Track.
Plug GLaDOS in the A.S.H.P.D
Walkthrough
Go along the catwalk and turn left when you are at the halfway-point.
Shoot a portal above the catwalk on the wall.
Continue walking towards the lobby. When you are next to some rubble, turn around and put a portal on the wall on the right side. Then go through it.
Go through the door on the right.
Shoot a portal on the wall higher up on the opposite side. Put the other one on the floor level and then go through the portal.
Walk along the catwalk to the left and then place the portals on the floor.
Jump through the portal and fire the other portal to the wall near the ceiling facing the broken catwalk.
Enter the room on the left. There will be two levers. Activate them and enter the door.
Go through the other door on the right.
Walk forwards and fire a portal above the catwalk on the left. Place the other one on the floor and go through it.
Turn left and fire a portal on the angled surface in between the pipe and wall. The portal should be right next to the pipe. Place the other portal on the floor, so you may jump through it.
Go inside the control room and scare the bird away. When GLaDOS is done talking, pick her up and exit the control room.
Leave the portal on the floor and put the other one above the catwalk. Go through the portal.
Make sure, that the portal on the wall is facing the elevator and that it is as high as it can be.
Jump through the portal on the floor and enter the elevator.
Video walkthrough

Download demo file
Gallery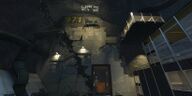 Pre-release screenshot of the control room area  
Related achievements
Tater Tote
Carry science forward
Ship Overboard
Discover the missing experiment
Door Prize
Examine all the vitrified test chamber doors