Portal 2 Chapter 5 GLaDOS' Lair
Jump to navigation
Jump to search
"I can't get over how small you are!"
This article is a stub. As such, it is not complete. You can help Portal wiki by expanding it.


This is the thirty-fifth level of the game and the final part of Chapter 5. It is set within the maintenance areas of the Aperture Science facility, as well as the Central AI Chamber. This level does not feature any hazards, and advances the central plot.
Contents
Mechanics
Characters
Objective
Go to GLaDOS' Chamber and confront her
Hazards
Locations
GLaDOS' Chamber (clean)
Core Transfer Area
Walkthrough
Go up the stairs and go right. Turn left to the open area.
Shoot a portal on the panels with the blinking light on the right side.
Put another portal on the wall of the corridor where you are and go through it.
Open the door and wait.
Pick up Wheatley when possible and plug him into the mainframe.
Shoot portals to the walls in Stalemate Resolution Annex and the other to the floor in front of the Annex. Go through the portal.
Shoot a portal to the opposite wall, go through the portal and rush to push the Stalemate Resolution Button.
Go back to the core transfer bay and wait for the lift and go in it.
Video walkthrough

Download demo file
Gallery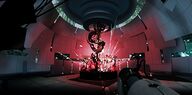 Concept art of the core transfer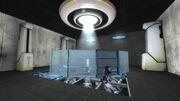 Pre-Release Screenshot  
Related achievements
Stalemate Associate
Press the button!
Music
9999999 by Aperture Science Psychoacoustics Laboratory [3:11] |

Download |

Play
Don't Do It by Aperture Science Psychoacoustics Laboratory [5:16] |

Download |

Play
I AM NOT A MORON! by Aperture Science Psychoacoustics Laboratory [3:46] |

Download |

Play