Behind the Scenes
Jump to navigation
Jump to search
This is the seventh level in Co-op mode of Portal 2 and the sixth level in the course. This level takes place "behind the scenes" and doesn't contain a disassembly machine. It also introduces the players to Circuit Breakers.
Summary
The goal of the level is to insert a disc into the CD player.
Contents
Mechanics
Hazards
Being crushed by the door
Walkthrough
#
Atlas
P-body
1

Walk along the catwalk and stop just as you are about to pass a wall. Shoot a portal to the wall and place the other portal over to the bright small room behind it.

2
Go through the portal and proceed to the room with the CD player. Then go to the room with the two Circuit Breakers and go stand in front of them. Use the Breakers simultaneously (the Timer ping is very useful in these situations).
3

Fire a portal through the door and place the other one on the wall next to you.

4

Retrieve the CD and place it in the player.

5

Wait for GLaDOS to help your exit.
Video walkthrough
Gallery
A view of the corridor with the Circuit Breakers.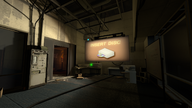 A view of the room with the CD player.  
Related achievements
Team Building
Complete all test chambers in the Team Building co-op course
"I can't get over how small you are!"
This article is a stub. As such, it is not complete. You can help Portal wiki by expanding it.