Portal 2 Chapter 8 Frankenturrets
From the Portal Wiki
"I can't get over how small you are!"
This article is a stub. As such, it is not complete. You can help Portal wiki by expanding it.


This is the forty-sixth level of the game, and takes place within an Aperture Science Test Chamber. This level introduces the Frankenturret, and does not contain any significant Portal-based challenges.
Contents
Mechanics
Hazards
Characters
Locations
Frankenturret 'Dedicated' Chamber
Test Chamber 01 (out of 01)
Objective
Go through Wheatley's Test Track.
Walkthrough
Frankenturret Chamber 01
Go along the catwalk until you reach a small room. On the bottom corner of the room is a broken vent. Fire a portal through it and place the other portal on the wall in the room and go through it.
Turn left and go along the catwalk.
Go in the elevator and wait for the doors to open.
Go along the catwalk and enter the chamber.
Pick up a Frankenturret and place it on the button.
Wait for the exit to open.
Go through the door and along the catwalk.
Frankenturret Chamber 02 (numbered 01)
Push the Switch and fire portals on the wall next to you and to the wall behind the button. Go through the portal.
Go through the door.
Walk through the opened walls and solve it again.
Go in the Chamberlock.
Video walkthrough

Download demo file
Related achievements
Dual Pit Experiment
Do the same test twice
You Made Your Point
Refuse to solve the first test in Chapter 8
Music
Franken Turrets by Aperture Science Psychoacoustics Laboratory [4:08] |

Download |

Play
TEST by Aperture Science Psychoacoustics Laboratory [6:14] |

Download |

Play
Gallery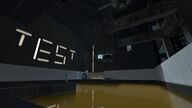 Pre-Release Screenshot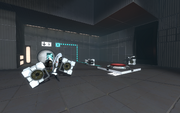 Frankenturret chamber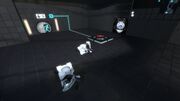 Beta version of the Frankenturret chamber