Chapter 1 - Part 4: Test Chamber 03
Jump to navigation
Jump to search
"I can't get over how small you are!"
This article is a stub. As such, it is not complete. You can help Portal wiki by expanding it.


This Test Chamber is the fourth level of the game and introduces the player to the basic principles of portal-placement.
Contents
Mechanics
Characters
Objective
Complete GLaDOS' Test Track (Test Chamber 03)
Hazards
Locations
Aperture Science Enrichment Center
Test Chamber 03 (GLaDOS)
Walkthrough
Place a portal on a nearby wall and walk through it.
Look to the right to see the Chamberlock, fire a portal at one of the walls near it. Walk back through the portal.
Proceed in to the Chamberlock.
Video walkthrough

Download demo file
Music
Taste Of Blood by Valve Studio Orchestra [3:06]
Gallery

Pre-release Test Chamber 03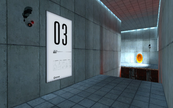 Sideview.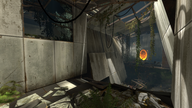 The decayed Test Chamber 03 in
Portal 2
.