Portal 2 Chapter 9 Finale
From the Portal Wiki
"I can't get over how small you are!"
This article is a stub. As such, it is not complete. You can help Portal wiki by expanding it.


This is the sixtieth and final level of the game. The level takes place within the maintenance areas of the Aperture Science facility, as well as Wheatley's Lair, and features Conversion Gel, Repulsion Gel and Propulsion Gel. Bombs and Neurotoxin are present as the primary hazards.
Hazards
Walkthrough
Shoot a portal on the ceiling above the ledge and the other below yourself.
Go through the portal and continue to observe the Corrupted Cores.
Head for the door and go along the catwalk.
Go up the stairs and then go to the left. Plug GLaDOS in the receptacle and wait to get to the top.
Hide behind the Conversion Gel pipe and wait for Wheatley to start throwing bombs.
Shoot a portal on the floor near yourself and the other one on one of the panels hanging from the ceiling.
Go stand behind the portal on the floor, so the bomb goes in the portal and hits Wheatley.
Fire the portal from the panel to the panel hanging above the catwalk and go through the portal.
Grab the first corrupted core, Space Core, and look for a blinking red light in Wheatley's body.
Use the Repulsion Gel to get near the light and point the core at it. The core attaches itself to the body.
Place a portal under Wheatley and the other on the floor. Get one of the bombs to go through the portal.
Shoot the portal from under Wheatley to the panel hanging above the catwalk.
Wait for the second corrupted core, Adventure Core, to be in the right position and then jump on the Repulsion Gel to grab it.
Look for another blinking red light and attach the core there by jumping from the Repulsion Gel to it.
Fire a portal on the panel higher above the countdown monitor. Then go stand to the other side of the area, to get Wheatley to turn his back on it.
Wait for the bombs to start dropping and put the other portal as soon as you can on the landing area.
Wait until a Propulsion Gel pipe bursts and fire a portal at the end of the runway.
Place the other portal on the floor right next to the end of the runway.
Go to the start of the catwalk and run through the portal and get the third corrupted core, Fact Core.
Look for the final blinking light and use the Repulsion Gel to attach the core.
Wait for the Stalemate Resolution Annex to open and place a portal on the ceiling of the Annex.
Shoot the other portal on the Conversion Gel below Wheatley and go through.
Fire the portal on surface of the Moon.
Enjoy the cutscene and rest of the Finale.
Video walkthrough

Download demo file
Media
Related achievements
Lunacy
That just happened
Music
Bombs for Throwing at You by Aperture Science Psychoacoustics Laboratory [5:48] |

Download |

Play
Your Precious Moon by Aperture Science Psychoacoustics Laboratory [1:55] |

Download |

Play
Caroline Deleted by Aperture Science Psychoacoustics Laboratory [1:50] |

Download |

Play
Cara Mia Addio! by Aperture Science Psychoacoustics Laboratory [2:33] |

Download |

Play
Want You Gone by Aperture Science Psychoacoustics Laboratory [2:21] |

Download |

Play
Spaaaaace by Aperture Science Psychoacoustics Laboratory [0:45] |

Download |

Play
Gallery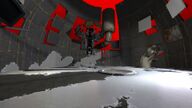 Pre-Release Screenshot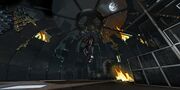 Pre-Release Screenshot Paintover