Portal Stories: Mel Under Bounce
From the Portal Wiki
This chamber has the Repulsion Gel and the Cleansing Gel and advanced Portal jumping.
Hazards
Walkthrough
Video walkthrough
Trivia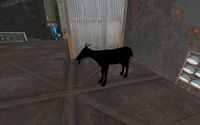 A painted "LoneWolf2056" can be found.
In many inaccessible areas around the maps, stock & un-textured models of goats can be found. According to the developers, goats became a running gag during development, leading to the placement of the models for fun. One of them is found in this chamber.
The music played during this chamber is known as Testing Begins.