Portal Stories: Mel Intro
From the Portal Wiki
Hazards
Walkthrough
Wait for the doors to open
Go up the stairs
Leave the building
Go to the Aperture Building across the park
Turn left and go straight and down the stairs
Enter the elevator
Video walkthough
NOTE: This video applies for the whole First Chapter.
Trivia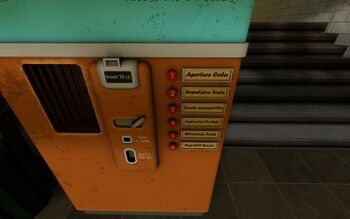 The arrivals board at the start lists City 17 as a destination, which is the setting of both episodes of Half Life 2.
In the vending machines seen early on in the story, the list of available drinks includes Citranium Soda. This is a reference to a slightly earlier Portal mod, Aperture Tag, which includes Citranium as a 'sponsorship' gag.
Achievements
Welcome to Aperture
Enter the main lobby of Aperture Science Innovators
Persistent
Check that all doors have been locked for the night