Portal Stories: Mel Lift
Jump to navigation
Jump to search
The third map in Portal Stories: Mel This map is a long elevator ride to the bottom of Test Shaft 01. It shows a large amount of Testing Spheres.
Hazards
Walkthrough
Video walkthough
NOTE:This video applies for the whole First Chapter.
Trivia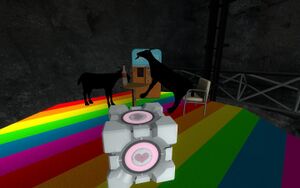 If you spam the

E

(use key) on the o in today, the 02 on the map, and the bottom of the gate, the gate will open and you can fall down, and skip the entire ride.
This level was scarcely decorated at the beginning, but after the main developer heard the soundtrack played during this song, he decided to improve it and, according to Harry101uk, "It was a battle between which could be better, the soundtrack or the environment".
There was originally planned to be a group of goats having a tea party during Mel's long elevator ride in the beginning of the game. However, according to LoneWolf2056, it was removed as they didn't want the new models to cause technical issues.