Aperture Tag: The Paint Gun Testing Initiative Chapter 2 Test Chamber 11
From the Portal Wiki
"I can't get over how small you are!"
This article is a stub. As such, it is not complete. You can help Portal wiki by expanding it.


This is the twelfth level of the game, and takes place within an Aperture Science test chamber. This level introduces the player to Death Fizzler, and it can fizzle the player or cubes.
Hazards
Gallery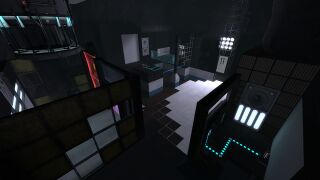 Test Chamber 11