Portal Stories: Mel Garden
Jump to navigation
Jump to search
The Garden is the last test chamber of the First Chapter in Portal Stories: Mel. The chamber has no major hazards, but entering in the lake will cause you to drown.
Hazards
Walkthrough
Enter the building and look for a door near harmless turrets.
Enter the door and interact with the sleeping chamber.
Video Walkthrough
NOTE:This video applies for the whole First Chapter.
Gallery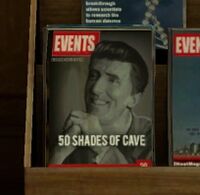 Trivia
In the Aperture building lobby, a magazine rack displays a magazine with the headline 'Fifty Shades of Cave' over Cave Johnson's face. This is a reference the erotic romance novel/film Fifty Shades of Grey.
In the Security Room on the left wall near the lift, Virgil can be found. This area however, is inaccessible in the final mod.
In Cave Johnson's dialogue just after leaving the lift, he mentions Crazy Harry. This is a reference to Crazy Harry from comedy show, The Muppet Show who is a pyrotechnic expert. This could also be a reference to Harry Callaghan who composed the music and voiced all characters except Virgil (he's voiced by Stig Finsen Sydtnagen).
Achievements
Testing the Waters
Testing the Waters
Super Drowning Skills

---

Difficulty: Easy
How to obtain: Jump into the body of water in front of the extended relaxation building.