Portal: The Flash Version MapPack
From the Portal Wiki
"Nope, still can't see!"


This page would benefit from the addition of one or more images.


Please add a suitable image, then remove this notice.The specific instructions are: " Could do with some pictures of the chambers"

"I can't get over how small you are!"
This article is a stub. As such, it is not complete. You can help Portal wiki by expanding it.


Portal: The Flash Version MapPack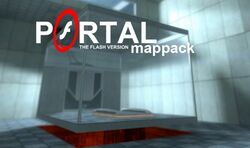 ---
Basic Information
Developer:
Engine:
Released:

Microsoft Windows

International: May 4th, 2008

Modes:

Singleplayer

Genre:

First-person puzzle/platformer

Ratings:

N/A

Requirements:

Processor: Intel Pentium 4 3000 MHz
Display Card: DirectX 9 compatible graphics card
Memory: 1024 MB
Free Disk Space: 1.5 GB
Operating System: Microsoft Windows 2000/XP/Vista
Portal: The Flash Version MapPack is a set of downloadable maps, inspired by Portal: Flash Version. These maps are compatible with Portal, and have been incorporated in the official Xbox Live Arcade version of Portal, Portal: Still Alive.