Portal Pro
Jump to navigation
Jump to search
"Oh! That's--that's amazing."
This page is about Community content created by the Portal community.
As such, the content featured here is non-canon.

"I can't get over how small you are!"
This article is a stub. As such, it is not complete. You can help Portal wiki by expanding it.


"Nope, still can't see!"


This page would benefit from the addition of one or more images.




Please add a suitable image, then remove this notice.



Portal Pro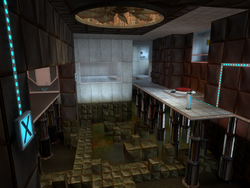 ---
Basic Information
Developer:
Engine:
Released:

Microsoft Windows

International: Jul 3, 2010

Modes:

Singleplayer

Genre:

First-person puzzle/platformer

Ratings:

9.3/10 on ModDB

Requirements:

Processor: Intel Pentium 4 3000 MHz
Display Card: DirectX 9 compatible graphics card
Memory: 1024 MB
Free Disk Space: 1.5 GB
Operating System: Microsoft Windows 2000/XP/Vista/7/8/8.1/10
Portal Pro is a community-created mod including additional test chambers for Portal. Portal Pro tries to focus on solving puzzles logically rather than using complex fling techniques. The goal is to create test chambers with complicated solutions that are not difficult to actually perform.
External links