Heavy-duty Super-mapping Super-contest
From the Portal Wiki

Heavy-duty Super-mapping Super-contest was a follow-up contest to Summer Mapping Initiative. The contest began in July 18th and ended on August 5th 23:59 EDT. This mapping-contest was aimed to promote and reward great puzzle designs and advanced map-making techniques[1].
Rules
Submission
Maps must be authored with Hammer Editor. You are free to use the Puzzle Maker as a tool for prototyping your ideas, but maps must be designed and built in Hammer Editor.
Maps should be made within the timespan of the competition; previously authored content is not permitted.
You are not allowed to re-create any existing maps, regardless of the original author.
Your submitted map should only consist of one single map file (one .bsp); multi-map submissions are not allowed.
Maps must be submitted before 23:59 EDT on the last day of contest - August 5, 2012
Entries may not be modified after the above deadline, for any reason.
All maps must be submitted to the Download Database, in the "Contest" category.
You can only submit one map per game-mode (Single Player or Cooperative). While you may enter twice into both categories, we encourage focusing your attention on a single entry - thereby ensuring its quality.
Map
Fulbright maps (maps without lighting) are not allowed.
Playground maps and/or maps with no objective are not allowed.
The map .bsp size cannot exceed over the limit of 100MB unarchived.
Maps must be completed without using engine glitches of any kind. (This includes, but is not limited to: reportal glitch, bunny hopping, funnel crouching etc.)
Maps must contain an entry and exit elevator or a well defined entry and exit.
Maps may contain custom assets as long as they are packed completely into the .bsp.
Results
There were a total of 36 maps entered in the competition and 19 judges from different Portal-related sites scored the maps on a scale from one to five. Three maps with the highest ratings were announced as the winners. Five maps were disqualified.[2]
| Position | Map name | Creator | Rating | Game-mode | Honourable/Dishonourable mentions |
| --- | --- | --- | --- | --- | --- |
| 1st | The Corrupted | Pitkakorvaa | 4.37 | Single-player |   |
| 2nd | He is about to kill you | JWcreations | 4.12 | Single-player |   |
| 3rd | JOINT POTENTIAL Act 1 | Moth | 4.11 | Cooperative | "Best story" |
| 4th | Sticky Bridges | Amran | 4.04 | Cooperative | "COOP Honourable" |
| 5th | Getting Back on a Track | BenVlodgi | 3.77 | Single-player |   |
| 6th | Mho' Power | wrathofmobius | 3.76 | Single-player | "Best new puzzle element" |
| 7th | Funnelfling v2 | SLOOGOVS | 3.75 | Single-player |   |
| 8th | Rapid Effusion | Mr. P. Kiwi | 3.75 | Single-player |   |
| 9th | Alternate | Vordwann | 3.73 | Single-player | "Best custom voice acting" |
| 10th | JOINT POTENTIAL - Act 2 | Skotty | 3.68 | Cooperative |   |
| 11th | PortalCraft | sicklebrick | 3.60 | Single-player | "SP Honourable" |
| 12th | Collateral Damage | LambdaCore 21 | 3.39 | Single-player | "Best Half-Life 2 Canon Crossover" |
| 13th | Outskirts Testing | eladiozro | 3.32 | Single-player |   |
| 14th | Gamma Test 1 | Naulziator | 3.22 | Single-player | "Best custom-made content" |
| 15th | Broken World 2 | narkfestmojo | 3.20 | Single-player |   |
| 16th | Hallways on the run | canari | 3.02 | Single-player |   |
| 17th | The Part Where | GLaDOS CUBE | 3.00 | Single-player |   |
| 18th | Cave's Caves | SpAM_CAN | 2.94 | Single-player |   |
| 19th | One Shot | LoneWolf2056 | 2.88 | Single-player |   |
| 20th | The Second Exodus | josepezdj | 2.81 | Single-player |   |
| 21st | constellation:Cancer | mironos | 2.75 | Single-player |   |
| 22nd | Trust Bridges | HammerHead | 2.71 | Cooperative |   |
| 23rd | Atrophication | The Irate Pirate | 2.61 | Single-player |   |
| 24th | Unforgiving | SandvichBlock | 2.47 | Single-player |   |
| 25th | sp_gel_conveyor | GLaDOS9457723 | 2.47 | Single-player |   |
| 26th | Forcefields and Cubes | FelixGriffin | 2.42 | Single-player |   |
| 27th | Ode to Turrets I: "The Factory" | Kaleido | 2.13 | Single-player | "I told you that you would never finish" |
| 28th | Learn to Fly | Patches34 | 1.81 | Single-player |   |
| 29th | Color Me Rainbow and Spank Me Skyward | Shakky | 1.41 | Single-player |   |
| 30th | Sandy Testing | JoshTheBoss | 1.29 | Single-player |   |
| 31st | Follow the Camel | bandanablandana | 1.00 | Single-player | "Kizzycocoa Prize (worst map)" |
| DQ | tc_vitrified | ChickenMobile | DQ | Single-player | "Best disqualified map" |
| DQ | Tests of cleverness | Jepp | DQ | Cooperative |   |
| DQ | Arc | deltaalphanova | DQ | Single-player |   |
| DQ | An Advanced Test Chamber | DocWibbleyWobbley | DQ | Single-player |   |
| DQ | In Order to Disorder | AlexNilsson | DQ | Single-player |   |
Prizes
1st place
2nd place
3rd place
Gallery
Heavy-duty Super-mapping Super-contest Winners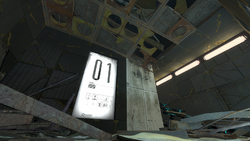 The Corrupted by Pitkakorvaa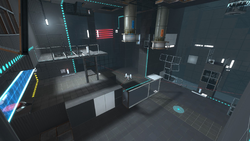 He is about to kill you by JWcreations  
References
↑ http://contest.thinking.withportals.com/ Heavy-duty Super-mapping Super-contest page
↑ http://forums.thinking.withportals.com/general-discussion/list-of-all-rankings-contest-2012-t7243.html List of all Rankings Contest 2012 forumpost
See also
Links