myApertureLabs
Jump to navigation
Jump to search
myApertureLabs
Website Info
URL:
http://www.myaperturelabs.com/
myApertureLabs, and the later myApertureInnovations, were a mapping and modding communities focused on creating content for Portal and Portal 2. They offered a large database of maps, mods, and tutorials. The website also featured a forum for collective discussion and feedback.
The website's database was initially planned to be decommissioned on August 8th, 2013 with the forums following suit some time in 2014[1], however the forums and database of myApertureInnovations remained online until sometime in May 2017. The URL currently hosts an archive of all the files submitted to both incarnations of the website. [2]
An archive of most of the files uploaded to both websites can be found online. [3]
Gallery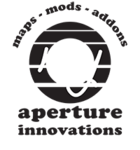 The myApertureInnovations logo.  
References