Portal: The Flash Version MapPack
From the Portal Wiki
"Eu não posso acreditar no quão pequena você é!"
Este artigo é um esboço. Logo, não está completo. Você pode ajudar a Portal Wiki ao expandí-la.


Portal: The Flash Version MapPack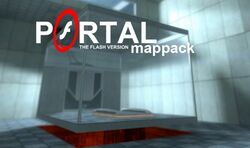 ---
Informações básicas
Desenvolvedor:
Motor:
Data de lançamento:

Microsoft Windows

Internacional: 4 de maio de 2008

Modos:

Um jogador

Gênero:

Quebra-cabeça/Plataforma

Classificação:

N/D

Requisitos de sistema:

Processador: Intel Pentium 4 3000 MHz
Placa de vídeo: Compatível com DirectX 9
Memória: 1024 MB
Espaço livre em disco: 1.5 GB
Sistema operacional: Microsoft Windows 2000/XP/Vista
Portal: The Flash Version MapPack é um conjunto de mapas baixáveis inspirados pelo jogo Portal: Flash Version (Inglês). Esses mapas são compatíveis com Portal e foram incorporados na versão Xbox Live Arcade de Portal, Portal: Still Alive.