Hoopy the Hoop
Jump to navigation
Jump to search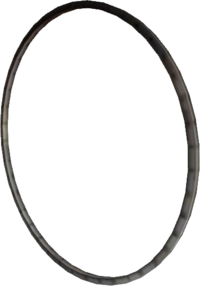 Ensimmäisessä Portalissa, Hoopy the Hoop oli yksinäinen vanne, joka putosi ja pyöri pelaajan eteen pelin lopussa. Valve odotti Hoopy the Hoopista tulevan internet meemiksi, kakku otti sen sijan ja Hoopy the Hoop unohdettiin.[1]
Esiintymiset
Portal
Hoopy the Hoop rullaa näytön ohi pelin lopussa, kun Chell makaa Aperture Science-laitoksen ulkopuolella.
Portal 2
Hoopy esiintyy ensimmäisen kerran Portal 2-pelissä lattiapaneelin alla testikammiossa 2. Hän tekee toisen esiintymisensä pöydän takana Rattmannin pesässä testikammiossa 6, samassa pesässä viitataan myös saavutuksessa "Viimeinen viesti".
Galleria
Lähteet