Hoopy the Hoop
Jump to navigation
Jump to search
"Estás usando este software de traducción de forma incorrecta. Por favor, consulta el manual. - Wheatley"
Questa pagina sta venendo tradotta in Italian.
Se sapete parlare Italian, postate nella talk page o parlate con coloro che hanno contribuito a questa pagina ( vedendo la cronologia della pagina).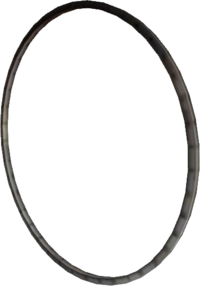 Nel primo Portal, Hoopy the Hoop (Hoopy il Cerchietto) era un cerchietto solitario che cadeva e rotolava davanti al giocatore alla fine del gioco. Anche se Valve aveva anticipato che Hoopy the Hoop sarebbe diventato un meme di Internet, la torta ne ha preso il posto e Hoopy the Hoop è stato dimenticato.
Apparizioni
Portal
Hoopy the Hoop rotola davanti allo schermo alla fine del gioco quando Chell è stesa fuori l'impianto della Aperture Science.
Portal 2
Hoopy appare in Portal 2 dietro una scrivania nel rifugio di Rattmann nella Camera Test 06. È lo stesso rifugio cui fa riferimento il risultato Trasmissione finale.
Galleria