Hoopy the Hoop/de
From the Portal Wiki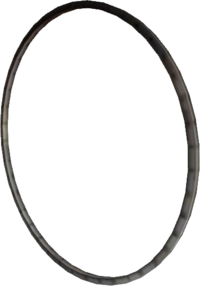 Im ersten Teil, Portal, gab es einen Reifen namens Hoopy the Hoop. Dieser war Bestandteil von GLaDOS. In der Endsequenz von Portal fiel Hoopy vom Himmel auf den Parkplatz von Aperture Science, bevor Chell vom Party Escort Bot zurück ins Enrichment Center gezogen wurde.
Laut einem Interview mit Valve in "Opening The Portal: Exploring The Game's Development", dachte man nie, dass man den Satz "The Cake is a Lie" dermaßen mit Portal verbinden würde. Die Entwickler erwarteten eher, dass Hoopy the Hoop das Markenzeichen Portal's werden könnte. Erik Wolpaw erklärte: "Wir dachten wir bräuchten ein Lager voll mit Hoopy T-Shirts, Tassen oder Poster.…Wir würden Hoopy zusehen, wie er immerwieder davonrollt. Das war der Teil des Spieles, auf den wir am meisten stolz waren. Aber niemand ging darauf ein."
Appearances
Portal
Hoopy the Hoop rollt über den Bildschirm als sich Chell am Ende des Spieles außerhalb des Aperture Science Enrichment Center befindet.
Portal 2
Hoopy taucht auch in manchen Räumlichkeiten in Portal 2 auf. Als Erstes ist er in der zerstörten Kammer von GLaDOS, wo der Reifen sich links neben GLaDOS' Kopf befindet, zu sehen. Das zweite Mal taucht Hoopy in Testkammer 2 (Kapitel 2: Der Kaltstart), unterhalb einer der Plattformen auf. Die dritte Begegnung findet in Rattmann's Versteck in Testkammer 6 (Kapitel 2: Der Kaltstart) statt. Dies ist das gleiche Versteck, in der das Achievment Geheimzeichen erreicht werden kann. Hoopy's vierter Auftritt ist in manchen Custom Chambers (Testkammern, die mit dem Perpetual Testing Initiative Level Designer erstellt wurden.) Er kann in den Ausgängen einiger Kammern gefunden werden, jedoch nicht in jeder.
Gallery
Hoopy the Hoop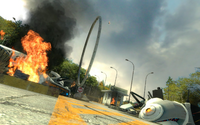 Hoopy the Hoop am Ende von Portal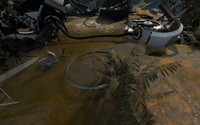 Hoopy the Hoop in
Portal 2
, GLaDOS' zerstörter Kammer.  
References