Master's Yellow Belt
Jump to navigation
Jump to search
Master's Yellow Belt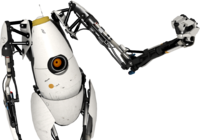 Basic Information
Item
"

Time to watch the master.

— Defective Turret

"
The Master's Yellow Belt is a headwear item for P-body. It is a yellow cloth belt that is tied around P-Body's forehead. This hat was given to players who own the Master's Yellow Belt hat in Team Fortress 2.
Trivia
This hat is a homage to belts often given to martial artists. The item may be inspired by the misconception that such belts were traditionally white when first bestowed upon the pupil and, over time, would darken in hue from dirt, sweat and other bodily fluids.
In Bot Trust, P-body wears a similar yellow headband as a blindfold as Atlas navigates him onto an Aerial Faith Plate.
Gallery
Master's Yellow Belt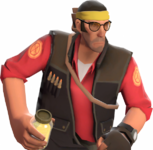 The
Sniper
from Team Fortress 2 wearing the Master's Yellow Belt.  
See also