Bot Trust (video)
Jump to navigation
Jump to search
Bot Trust is a video which was released by Valve on March 28, 2011 in order to promote Portal 2. The video takes the form of an Aperture Laboratories investment opportunity video, and uses a combination of Aperture Science's hallmark animations and pre-rendered footage in order to showcase the ongoing development of Aperture Science's robotics and AI (Artificial Intelligence), and how these innovations improve the ability to conduct co-operative testing.
"Bot Trust" Video Transcript
Transcript
[Aperture Science theme]

[Start an animation guide]

Cave Johnson: "Cave Johnson here."

Cave Johnson: Fact: The key to any successful cooperative test is trust. And as our data clearly shows, humans cannot be trusted. The solution: robots!

Cave Johnson: Then fire the guys who made those robots and build better robots.

Cave Johnson: Then run those robots through a regimen of trust exercises, creating a foundation of mutual respect reinforced by the simulated bonds of artificial friendship. Inspiring stuff.

Cave Johnson: And finally, we put that trust to the test. Bam! Robots gave us six extra seconds of cooperation. Good job, robots.

Cave Johnson: Cave Johnson. We're done here."
Notes
Gallery
Bot Trust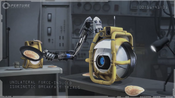 Atlas in Roll Cage  
Videos
Aperture Investment Opportunity
Promotional
Testing Elements
Other