Pyro's Beanie
From the Portal Wiki
Pyro's Beanie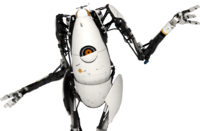 Basic Information
Item
"

I give you a score of 3.4 for style and 10 for being annoying.

 Click to listen

— GLaDOS

"
The Pyro's Beanie is a headwear item for Atlas and P-body. It is a color-striped beanie with a propeller on top. This hat was given to players who own the Pyro's Beanie hat in Team Fortress 2.
Trivia
Beanies were popular among schoolchildren in the early to mid-20th century. Famous science fiction author Ray Nelson made a whimsical addition to these caps with a plastic propeller attached to the crown. These propeller beanies saw a brief period of popularity before the hat eventually became associated with nerdiness, and later social awkwardness and idiocy.
Gallery
Pyro's Beanie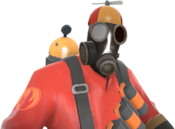 The
Pyro
from Team Fortress 2 wearing a Pyro's Beanie.  
See also