Gestures
From the Portal Wiki
"I can't get over how small you are!"
This article is a stub. As such, it is not complete. You can help Portal wiki by expanding it.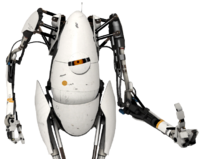 Gestures are special animations which players can activate during co-op gameplay. Gestures are contained as separate items in the 'Gesture' slot. There are eight default gestures for both Atlas and P-body, and 8 purchasable gestures.
Performing a gesture during the co-op campaign will at times cause GLaDOS to make a satirical comment upon how much you resemble 'humans'. Performing gestures also act as criteria for certain achievements.
List of gestures
Related Achievements
Air Show
Perform 2 aerial gestures before touching the ground in co-op

Asking for Trouble
Taunt GLaDOS in front of a camera in each of the five co-op courses

Can't Touch This
Dance in front of a turret blocked by a hard light bridge in co-op

Empty Gesture
Drop your co-op partner in goo while they are gesturing by removing the bridge under them

Friends List With Benefits
While playing co-op, hug 3 different people on your friends list

Gesticul-8
Perform all 8 gestures of your own volition in co-op

High Five
Celebrate your cooperative calibration success

Narbacular Drop
Place a portal under your co-op partner while they are gesturing

Rock Portal Scissors
Win 3 co-op games of rock-paper-scissors in a row
Trivia
The purchasable gestures can be performed using the command "taunt gesturename" in the developer console. This is however, not possible to do when playing with a PlayStation 3 player.
See also