Pyro's Beanie
Jump to navigation
Jump to search
Pyro's Beanie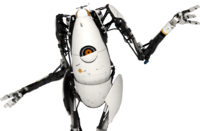 Informações básicas
Item
O Pyro's Beanie é um chapéu para o Atlas e o P-body. É uma touca de feltro com listras e uma hélice de plástico no topo. Este chapéu é dado para todos os jogadores que possuem o Pyro's Beanie no Team Fortress 2.
Curiosidades
Beanies eram populares entre estudantes no ínicio do século 20. O autor famoso de ficção científica Ray Nelson fez uma adição extravagante a estes chapéus com uma hélice de plástico anexada ao topo. Estes beanies se mantiveram populares por um curto período antes que fossem associados à nerdice, estupidez e problemas sociais. saw a brief period of popularity before the hat eventually became associated with nerdiness, and later social awkwardness and idiocy.
Galeria
Um Pyro do Team Fortress 2 usando um Pyro's Beanie.