Capítulo 3: Cámara de pruebas 16 (Portal 2)
From the Portal Wiki
"Las siguientes pruebas requieren cooperación. Por lo tanto, nunca han sido resueltas por un humano. Ahí es donde entráis vosotros. No conocéis el orgullo. No conocéis el miedo. No sabéis nada. Seréis perfectos."
Este artículo está en construcción. Y por lo tanto, está incompleto. Puedes contribuir con la Wiki de Portal poniendo tu información.


Este es el nivel 21 del juego y se desarrolla en una cámara de pruebas destruida. Este nivel requiere el uso del rayo térmico disuasorio para destruir varias torretas. Además, este nivel contiene un Rat Man Den.
Peligros
Guía
Videoguía

Descargar archivo demo
Música
Turret Wife Serenade by Aperture Science Psychoacoustics Laboratory [1:38] |

Descargar |

Reproducir
Galería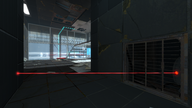 An overview of the Test Chamber.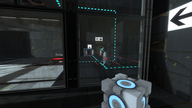 Another view.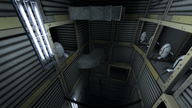 Turrets practising for the Turret Opera.  
Huevos de pascua
If the player destroys the Turret sitting behind the grating as they enter, using the rayo térmico disuasorio, they can find an alcove behind from which they can observe 4 Turrets and the Prima Donna Turret practising Turret Wife Serenade por la ópera de torretas.