Fancy Fedora
Jump to navigation
Jump to search
Fancy Fedora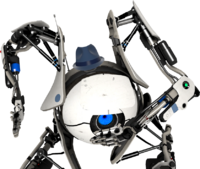 Basic Information
Item
The Fancy Fedora is a headwear item for Atlas and P-body. It is a felt fedora that sits atop the bots heads. This hat was given to players who own the Fancy Fedora hat in Team Fortress 2.
Trivia
The Fancy Fedora actually resembles a trilby more than it does a fedora. Fedoras have wider brims and were more popular in America, while the trilby was more popular in Europe.
In Hollywood movies of the 1940s, characters often wore a fedora; particularly when playing as a private detective, a gangster, or any other "tough guy" role. The fedora is also closely associated with "Film noir" characters. Fedoras and trilbies are also prominently used in European gangster/crime films such as Rififi.
Gallery
Fancy Fedora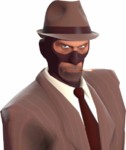 The
Spy
from
Team Fortress 2
wearing the Fancy Fedora.  
See also