Template:FeaturedArticle/cs
From the Portal Wiki
Current featured article
Purge the page cache to update the below.
Text
Puzzle Creator (nebo také jako Puzzle Maker nebo Editor) je část Perpetual Testing Initiative v Portalu 2, DLC vydané 8. května 2012 umožňující vytvoření single-player testovací komory v rámci jednoduchého in-game editoru.
Image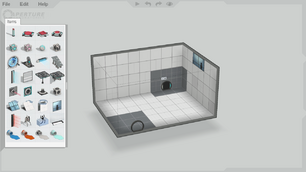 Previous featured articles
Cave Johnson je zakladatel Apeture Science, které bylo postaveno z Aperture Science Inovacích. Byl zmíněn v Portalu, ale hraje mnohem větší roli v Portalu 2 ve formách kazet a nahrávkách, které za sebou ponechal. Jeho stav je neznámý, ale pravděpodobně mrtvý.