Template:FeaturedArticle/ja
From the Portal Wiki
Current featured article
Purge the page cache to update the below.
Text
The Puzzle Creator (also known as Puzzle Maker or Editor) is a part of the Perpetual Testing Initiative in Portal 2, a DLC released on May 8th, 2012 allowing the creation of both single-player and co-op test chambers within a simple in-game editor.
Image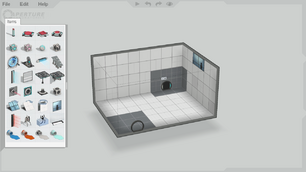 Previous featured articles
Cave Johnson is the founder of Aperture Science, which was built from Aperture Science Innovations. He was briefly mentioned in Portal, but makes a more prominent appearance in Portal 2, in the form of tape recordings he leaves behind. His current status and whereabouts are unknown, presumed dead.