Portal 2: Lab Rat
From the Portal Wiki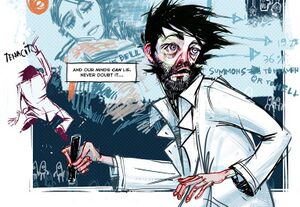 Portal 2: Lab Rat on graafinen novelli, joka julkistiin huhtikuussa 2011. Se oli yhteisprojekti Valven ja nimitettyjen sarjakuvataiteilijoiden kesken, kuten esimerkiksi Michael Avon Oeming ja Jay Pinkerton. Sarjakuva esittää Portalin loppua ja Portal 2-pelin alkua.
Juonen yhteenveto
Sarjakuva seuraa Doug Rattmannia, Aperture Sciencen labratyöntekijää, jolla on historiaa skitsofreniasta. Hän selvisi myös GLaDOSin yrityksestä murhata jokainen Aperture Science-laitoksen työntekijä, kun se käynnistettiin. Hiipien laitoksen läpi hän katsoo varjoista, kun GLaDOS testaa Chellia. Sarjakuva päättyy loukkaantuneeseen Rattmanniin, joka ryömii kryo-laitteeseen ja nukahtaa uneen.
Sarjakuva julkaistiin kahdessa osassa.
Osa 1
Osa 1

Kansi  

Sivu 1  

Sivu 2  

Sivu 3  

Sivu 4  

Sivu 5  

Sivu 6  

Sivu 7  

Sivu 8  

Sivu 9  

Sivu 10  

Sivu 11  

Sivu 12  

Sivu 13  

Sivu 14  
Osa 2
Osa 2

Sivu 15  

Sivu 16  

Sivu 17  

Sivu 18  

Sivu 19  

Sivu 20  

Sivu 21  

Sivu 22  

Sivu 23  

Sivu 24  

Sivu 25  

Sivu 26  
Triviaa
Sarjakuvan sivulla 13 on Gravity Gun ja Combine Health Dispenser Half-Life 2-pelistä. Sieltä löytyy myös Black Mesa Health Station ja H.E.V. Suit Charger Half-Life-pelistä.
Yhdessä Rattmannin repliikeistä hän sanoo "Both alive and dead, until someone opens the box" (suom. "Kumpanakin elävänä ja kuolleena, kunnes joku aukaisee laatikon"). Tämä on viittaus Schrödingerin kissa-teoriaan, jossa on hermokaasua ja kissa laatikon sisällä.