Bridge Constructor Portal
Jump to navigation
Jump to search
"Las siguientes pruebas requieren cooperación. Por lo tanto, nunca han sido resueltas por un humano. Ahí es donde entráis vosotros. No conocéis el orgullo. No conocéis el miedo. No sabéis nada. Seréis perfectos."
Este artículo está en construcción. Y por lo tanto, está incompleto. Puedes contribuir con la Wiki de Portal poniendo tu información.


Bridge Constructor Portal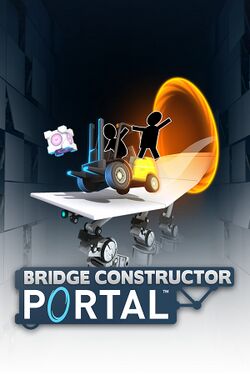 ---
Información básica
Desarrollador:

ClockStone

Editor:

Headup Games

Motor:
Lanzamiento:

Steam, Android

20 de diciembre de 2017 (INT)

XBox One

28 de febrero de 2018 (INT)

Modos:

Un jungador

Género:

Simulación, estrategia

Requisitos:

OS: Windows 7, 8, 10 / OS X 10.9+ / Ubuntu 12.04+
Procesadoor: 2 GHz
Memoria: 2 GB RAM
Gráfica: Compatible con DirectX10
Almacenamiento: 200 MB
Bridge Constructor Portal es un juego desarrollado por ClockStone y publicado por Headup Games. Es una versión de Bridge Constructor inspirada en Portal. Se publicó para PC, Mac, Linux, iOS y Android el 20 de diciembre de 2017. Posteriormente, se publicó para Nintendo Switch, PlayStation 4 y Xbox One el 28 de febrero de 2018.
General
Headup Games ha publicado lo siguiente:
«

"Hello and welcome back to the Aperture Science computer-aided enrichment center."

We welcome all lucky applicants to Bridge Constructor Portal with our new vehicle-based test chambers, Quantum Tunnels and patented Aperture technology!

For the last year we've been secretly working in our underground labs on the next iteration of the million-selling Bridge Constructor series. This new stand-alone title will release on PC, MacOS, Linux, mobile devices, and console, and fully embraces the Portal license, one of the most beloved video game franchises of the last decade.

Bridge Constructor Portal will blend the laws of structural engineering and technology straight from Aperture Laboratories into an exciting new game experience, all under the demanding gaze of GLaDOS.

"If you've been paying attention the solution should be obvious. As the case may be… good luck!"

— Headup Games

»
Mecánicas
Mecánica de construcción de puentes.
Tablones de andamio convertible de Aperture Science.
Supercables multifunción de Aperture Science.
Superbotón superpesado de Aperture Science.
Superbotón de un toque de Aperture Science, un nuevo tipo de botón azul que con pulsarlo una vez se queda accionado.
Lanzador de pellet de alta tensión de Aperture Science.
Receptor de pellet de alta tensión de Apertura Science.
Saga Bridge Constructor
Los juegos de Bridge Constructor son una saga de juegos de puzles en los que tienes que ponerte en el papel de un ingeniero y arquitecto. Tu objetivo es crear puentes para que los vehículos puedan pasar con seguridad.
En diciembre de 2017, fue n.º 1 en la App Store.
Galerí
Bridge Constructor Portal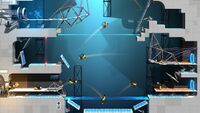 Jugando a Bridge Constructor Portal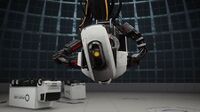 Imagen promocional de Bridge Constructor Portal  
Saga Portal
Juegos
Contenido descargable

Otros