Portal: The First Slice/es
From the Portal Wiki
"Las siguientes pruebas requieren cooperación. Por lo tanto, nunca han sido resueltas por un humano. Ahí es donde entráis vosotros. No conocéis el orgullo. No conocéis el miedo. No sabéis nada. Seréis perfectos."
Este artículo está en construcción. Y por lo tanto, está incompleto. Puedes contribuir con la Wiki de Portal poniendo tu información.


Portal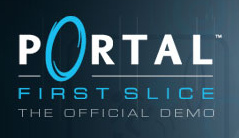 Información básica
Desarrollador:
Editor:
Distribuidor:
Motor:
Lanzamiento:
Modos:

Un jugador

Género:

Puzle-plataformas en primera persona

Clasificación:
Requisitos:

Windows

Windows 7, Windows Vista, Windows XP, Windows 2000
CPU: 1.7 GHz (3.0 GHz recomendado)
Memoria: 512 MB (1 GB recomendado)
Tarjeta gráfica: Nvidia DirectX 8 (Nvidia Direct X 9 recomendada)
Network: Conexión a internet
Portal: The First Slice es la versión de prueba de Portal. Cuenta con las 11 primeras cámaras del juego completo.
Disponibilidad
Inicialmente se repartió como promoción para la gente con hardware nVidia[1] y ATI [2] el 8 de Mayo de 2008. Si alguien compró Portal antes de descargar la demo, reemplazará al The First Slice de la Biblioteca. Más tarde se hizo pública para todos los usuarios de Steam. Durante la promoción Juega Gratis a Portal se desactivo dicha versión de prueba.
Galería

Promoción de Portal en Steam  

Oferta de Portal en Steam para ATI  
Referencias
↑ http://www.steampowered.com/nvidia/ Promoción de Steam por nVidia
↑ http://www.steampowered.com/ati_offer1a/ Promoción de Steam por ATI