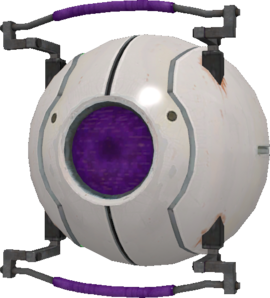 "

Do you see that thing that fell out of me? What is that? It's not the surprise... I've never seen it before.

— GLaDOS

"
Moraalisuusydin on yksi persoonallisuusytimistä, joka esiintyy Portal-pelissä ja Portal 2: Lab Rat -sarjakuvassa. Se on yksi monista ytimistä, joka kiinnitettiin GLaDOSiin säätelemään hänen käytöstään. Se asennettiin GLaDOSiin jokin aika sitten, jotta hän ei täyttäisi Elämyskeskusta tappavalla hermokaasulla.
Moraalisuusydin putoaa Portalin lopussa GLaDOSista, luultavasti tarkoituksellisesti. GLaDOS käskee Chelliä olla koskematta siihen, mutta käskyistä huolimatta Chell tuhoaa moraalisuusytimen saaden GLaDOSin menettämään moraalisia piirteitään ja alkaa jälleen täyttämään huonetta hermokaasulla.
Triviaa
Toisin kuin muut ytimet, moraalisuusydin näyttää olevan mykkä tai se ei vain tahdo puhua.
Katso myös