Security Camera
From the Portal Wiki
"I can't get over how small you are!"
This article is a stub. As such, it is not complete. You can help Portal wiki by expanding it.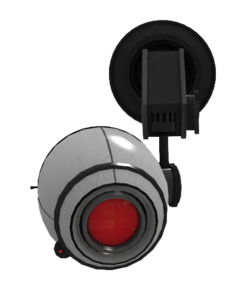 "

To ensure the safe performance of all authorized activities, do not destroy vital testing apparatus.

 Click to listen

— GLaDOS

"
The Security Cameras can be seen throughout the Test Chambers within the Aperture Science computer-aided Enrichment Center. Throughout the Portal series, the cameras are used by GLaDOS as a means of monitoring the movements and progress of Test Subjects. It doesn't serve any vital role in-game at least in Portal and Portal 2. In Portal, cameras are referred to as 'vital testing apparatus' if destroyed.
Appearances
Portal
In test chambers and some parts of maintenance area.
Portal: Still Alive
Portal 2
In test chambers and some parts of maintenance area.
Related achievements
Portal
Camera Shy
Detach security cameras from the walls.
Portal: Still Alive
The Camera Adds 10 Pounds
Knock a turret over with a security camera.
Portal 2
Asking for Trouble
Taunt GLaDOS in front of a camera in each of the five co-op courses
Gallery
Security Camera
Ditto; destroyed aesthetic.  

In-game screenshot of the cleaned up Portal 2 Security Camera.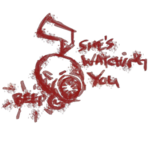 A Doug Rattmann scrawling of the Security Camera with the caption "She's watching you".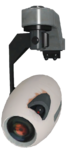 The Security Camera as seen in
Portal
, also seen in the turret control center.