Repulziós Gél
Jump to navigation
Jump to search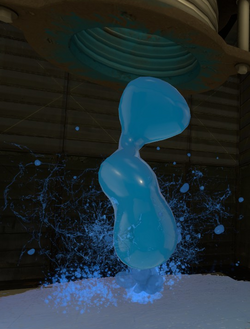 "

Oh, in case you got covered in that Repulsion Gel, here's some advice the lab boys gave me: DO NOT get covered in the Repulsion Gel.

— Cave Johnson

"
A Repulziós Gél egy világoskék folyadék, ami eltaszít magától minden tárgyat. Ha egy játékos vagy tárgy érintkezik a folyadékkal, akkor visszapattan a felületről. Ugrás a folyadékról magasabb, mint a normális ugrás, de az ugrás magassága függ attól, hogy milyen magasról érkezik a tárgy. Ezáltal magasabban fekvő platformokat is el lehet érni. Ha a Propulziós Géllel használjuk, hosszabb távokra is eljuthatunk ott, ahova nem tudunk portálokat helyezni. Ha egy tárgy, mint egy Kocka vagy egy Turret teljesen be van fedve a Repulziós Géllel, akkor addig fog pattogni, míg le nem mossuk róluk a folyadékot.
Ha guggolunk, azzal visszafordíthatjuk a hatásást a folyadéknak; megakadályozzuk, hogy elpattanjunk a földről. Ez akkor hasznos, ha stabilan szeretnénk megállni a Repulziós Gélen anélkül, hogy pattognánk.
Felhasználás
A Repulziós Gél bármilyen felületre fel lehet vinni portálok használatával. Leghasznosabb, ha olyan helyekre helyezzük, amikkel például hatalmas ugrásokat vihetünk véghez.
Érdekességek
A Repulziós gél a Tag: The Power of Paint zöld színü zseléjén alapszik.
Annak ellenére, hogy a játékban folyamatosan azt halljuk, mégsincs hatása annak, hogyha befedjuk magunkat a Repulziós Géllel.
Történelem
A Repulziós Gél volt az Aperture második kísérlete, hogy elkészítsen egy dietetikus pudingot, de amint lenyelte, a gyomrában lévő anyagok kipattantak az illető száján.
Bemutatás
Összefüggő Achievement-ek
Magasságból jeles
Bánj mesterien a repulziós géllel.

Schrödinger Macskafogója
Kapj el egy kékre festett dobozt, mielőtt földet érne.
Galléria
Repulsion Gel

A Turret covered in Repulsion Gel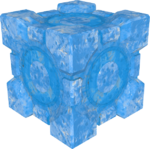 A Weighted Storage Cube covered in Repulsion Gel