Portaler
Jump to navigation
Jump to search
"Estás usando este software de traducción de forma incorrecta. Por favor, consulta el manual. - Wheatley"
Denna sida är på väg att bli översatt till svenska.
Om du kan tala svenska, posta på diskussionssidan eller prata med dom som har bidragit till sidan (genom att titta på sidhistoriken).

"I can't get over how small you are!"
Detta är en stub. Som sådant är det inte komplett. Du kan hjälpa Portal Wiki med utöka den.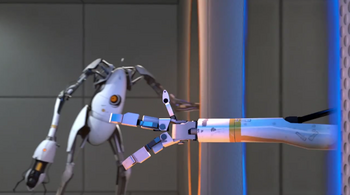 "

Momentum, a function of mass and velocity, is conserved between portals. In layman's terms: Speedy-thing goes in, speedy-thing comes out.

— GLaDOS

"
Portaler är funktionen gameplay mechanic i Portal serien. Portaler är placerade genom att skjutas ut från Handheld Portal Device, och placeras ut i par, vilket därför tilllåter en dubbelriktad rörlighet genom varje portal. En spelare kan placera blå och oranga portaler i singleplayer kampanjen, men i Co-op kampanjen ha varje robot sina egna portal- färger för att särskilja dom.Atlas kan skapa lila och cyan portaler, medan P-body kan skapa röda och gula. Ensamma portaler visas som en enfärgad oval, och parade portaler visas som en färg-kantad oval, medan mitten av portalen är som ett "fönster" till den andra portalen. Portaler kan bibehålla massa och hastighet på alla objekt som går genom en portal och kommer ut genom den andra. Portaler klarar också att upprätthålla flödet av ljus och gravitation, speciellt Excursion Funnels och Light Bridges.
Buggar
Portal boosting: En spelare har möjligheten att öka sin fart när man flyger genom två portaler som är placerade på golvet med hjälp av deras primära eller sekundära avfyrnings knapp som man trycker på när man lämnar en portal. Detta beror på att portal- mekaniken trycker bort spelaren från en portal, om portalen åter är placerad någon annanstans (eller i detta fall, på samma plats)
Galleria
Chell's portaler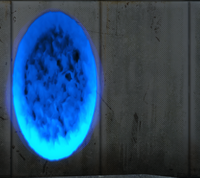 Primary-fire portal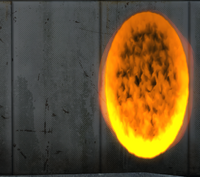 Secondary-fire portal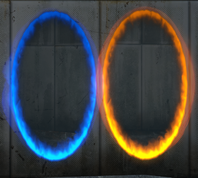 Both portals  
Atlas' portaler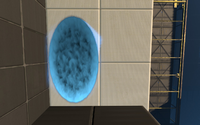 Primary-fire portal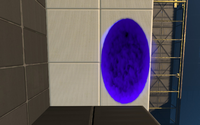 Secondary-fire portal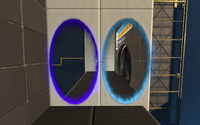 Both portals  
P-body's portaler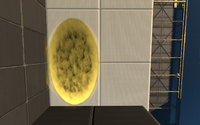 Primary-fire portal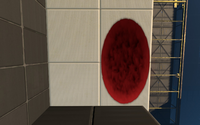 Secondary-fire portal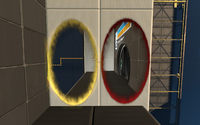 Both portals