Portal Pinball
From the Portal Wiki
Portal Pinball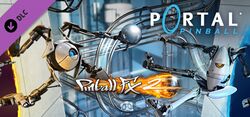 ---
Basic Information
Developer:
Publisher:
Distributor:
Released:

Microsoft Windows:
Android:

Modes:

Singleplayer

Genre:

Casual, Simulation

Ratings:
Requirements:

Windows

Windows XP, Windows Vista, Windows 7, Windows 8
CPU: Single Core @ 1.6GHz (Dual Core @ 2.00GHz recommended)
Memory: 512 MB (1 GB recommended)
Graphics hardware: DirectX 9 video card
Sound: DirectX compatible sound card
Network: Internet Connection

Android

Android 4.0
Application Permissions
"

Crafted in collaboration with Valve and Zen Studios, Aperture Laboratories is proud to reveal the "Aperture Science Heuristic Portal Pinball Device", proving that persistent experimentation is not only the hallmark of good science for the benefit of mankind, but also incalculably fun!

— Zen Studios on Portal Pinball

"
Portal Pinball is paid DLC for Pinball FX2 by Zen studios. It features a pinball "board" styled after a Portal 2 testchamber in disrepair, and includes cameos from several members of the cast of the Portal series including Chell, GLaDOS, Atlas, P-Body, and Wheatley. Test elements from Portal 2, such as Excursion Funnels and Turrets, make their appearance as well. On mobile, Portal Pinball is available as a standalone title.
There is no story-related content in Portal Pinball.
Gallery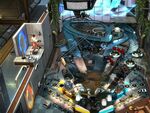 The Portal Pinball board.