Moondust
Jump to navigation
Jump to search
"I can't get over how small you are!"
This article is a stub. As such, it is not complete. You can help Portal wiki by expanding it.


"Black Mesa can eat my bankrupt--"
This article reads like an advertisement.

( background story that needs rewriting)




You can help Portal Wiki by substantially rewriting some or all of it.



"Nope, still can't see!"


This page would benefit from the addition of one or more images.


Please add a suitable image, then remove this notice.The specific instructions are: "Update infobox image, add screenshots"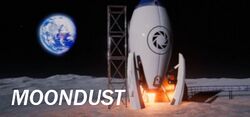 ---
Basic Information
| | |
| --- | --- |
| Developer: | |
| Publisher: | |
| Engine: | |
| Released: | |
| Modes: | Singleplayer |
| Genre: | Virtual Reality |
| Ratings: | Positive |
| Requirements: | |
Moondust is a non-canonical VR technical demo developed by Valve to showcase the functionality of the Knuckles EV2 VR controllers. The demo was released on June 21, 2018 and can be found on Steam under the name Moondust: Knuckles Tech Demos, rather than Moondust. Moondust consists of four mini-games.
Background
Moondust takes place in the Portal universe. With moon-based conversion gel stores running dangerously low, Aperture looks to the stars for a new source of the valuable portal conductor. Take control of a giant robot on the moon, spearheading the Aperture Lunar Resources Initiative. This demo utilizes all of the new inputs of Knuckles and showcases a few new game mechanics enabled by the new controller.
Minigames
Rock Crushing
"

Crush moon rocks to a fine powder with your powerful hands, taking advantage of the high-fidelity force sensors on Knuckles.

— Steam Store Page

"
Crush moon rocks by clenching your hand.
BuggyBuddy™
"

Practice driving a moon buggy, utilizing the joystick and the rest of the new inputs of Knuckles.

— Steam Store Page

"
Drive a buggy around the map with the controllers. If you drive over the map, the buggy will restart to the original position.
Space Station Construction
"

Assemble a space station in orbit, with fine interactions driven by all 10 fully tracked fingers.

— Steam Store Page

"
Create a space station in the orbit of the moon.
Throwing Range
"

Enjoy some target practice in the throwing range, with the most natural throwing VR can offer.

— Steam Store Page

"
Throw bombs. Clench the bombs to activate the timing function
Gallery
External Links
Portal Series
Games
DLC

Other