Portal: The First Slice
From the Portal Wiki
"I can't get over how small you are!"
This article is a stub. As such, it is not complete. You can help Portal wiki by expanding it.


Portal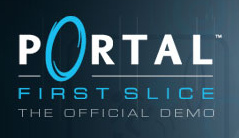 ---
Basic Information
Developer:
Publisher:
Distributor:
Engine:
Released:
Modes:

Singleplayer

Genre:

First-person puzzle/platformer

Ratings:
Requirements:

Windows

Windows 8, Windows 7, Windows Vista, Windows XP, Windows 2000
CPU: 1.7 GHz (3.0 GHz recommended)
Memory: 512 MB (1 GB recommended)
Graphics hardware: Nvidia DirectX 8 video card (Nvidia Direct X 9 video card recommended)
Network: Internet Connection
Portal: The First Slice is the demo version of Portal. It is comprised of the first eleven test chambers of the full game.
Availability
The demo was initially released as part of a Steam promotion for Nvidia hardware[1] and ATI [2]on May 8, 2008. If a user purchased Portal after downloading the demo, it would replace The First Slice in their game library. Over time, the demo was made available to all Steam users irrespective of their hardware. The demo was temporarily unavailable during the Portal is Free promotion, before being made available again some time later. It is still downloadable on Steam.
Gallery

Portal Steam promotion  

Portal Steam ATI offer  
References
↑ http://web.archive.org/web/20110804182429/http://www.steampowered.com/nvidia/# Nvidia Steam promotion, Archived
↑ http://web.archive.org/web/20100805110553/http://www.steampowered.com/ati_offer1a/ ATI Steam promotion, Archived