Sombreros
From the Portal Wiki
"Las siguientes pruebas requieren cooperación. Por lo tanto, nunca han sido resueltas por un humano. Ahí es donde entráis vosotros. No conocéis el orgullo. No conocéis el miedo. No sabéis nada. Seréis perfectos."
Este artículo está en construcción. Y por lo tanto, está incompleto. Puedes contribuir con la Wiki de Portal poniendo tu información.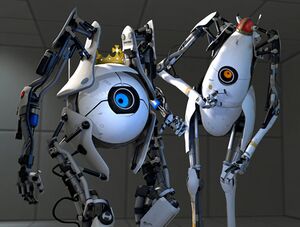 "

"Go away," the Portal guys told us. "You'll just try to put hats in it."

"Whaaattttt?" we said. "That's—psshhhh. If anything, we'll probably tell you to take some hats out of the game."

"There are no hats in the game."

— Blog Oficial de TF2

"
Los sombreros son objetos que se equipan en el espacio cabeza. Son simplemente estéticos, llevarlos no te dara ventajas.
Sombreros
Curiosidades
Los objetos compartidos con Team Fortress 2 tendrán un aspecto propio en Portal 2, con un color exclusivo.