Confianza entre Bots
From the Portal Wiki
Confianza entre Bots es un vídeo publicado por Valve el 28 de Marzo de 2011 para promocionar Portal 2. El vídeo transcurre en los Labratorios de Aperture y cuenta con una combinación del contraste de las animaciones de Aperture Science e imágenes prerrenderizadas con relacción al desarrollo de los robots de Aperture y su IA (Inteligencia Artificial) y cómo se innova con el modo cooperativo.
Transcripción del vídeo "Confianza entre Bots"
Transcripción
[Tema de Aperture Science]

[Start an animation guide]

Cave Johnson: "Cave Johnson here."

Cave Johnson: Fact: The key to any successful cooperative test is trust. And as our data clearly shows, humans cannot be trusted. The solution: robots!

Cave Johnson: Then fire the guys who made those robots and build better robots.

Cave Johnson: Then run those robots through a regimen of trust exercises, creating a foundation of mutual respect reinforced by the simulated bonds of artificial friendship. Inspiring stuff.

Cave Johnson: And finally, we put that trust to the test. Bam! Robots gave us six extra seconds of cooperation. Good job, robots.

Cave Johnson: Cave Johnson. We're done here."
Notas
En el 0:19, se puede ver el skin chasis.
Galería
Confianza entre Bots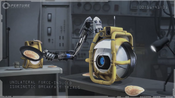 Atlas en el Chasis  
Vídeos
Oportunidad de Investidura de Aperture
Promocional
Elementos de prueba
Otros