Material Emancipation Grill/pl
Jump to navigation
Jump to search
Siatka Dematerializująca
Siatka Dematerializująca (ang. Material Emancipation Grill)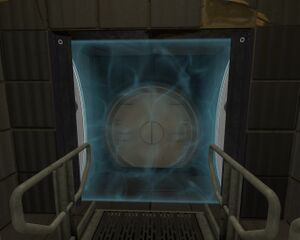 to pole niebieskich cząstek które:
zdematerializują Aparaturę Podstawową Aperture Science po kontakcie z nią,
uniemożliwiają strzelenie portali przez tę siatkę,
usuwają postawione przez nas portale.
Co ciekawe, w Komorze Testowej 1 w rozdziale: "Komunikat" w Portal 2 dostajemy komunikat o treści: If you feel liquid running down your neck, relax, lie on your back, and apply immediate pressure to your temples. You are simply experiencing a rare reaction in which the Material Emancipation Grill may have emancipated the ear tubes inside your head. Oznacza to że Siatka Dematerializująca ma dosyć dziwny efekt uboczny, może ona zdematerializować kanały uszne w głowie obiektu testowego. Mimo to Chell nie doznała tego efektu ubocznego po czym świadczy brak charakterystycznego dźwięku dematerializacji po przejściu przez siatkę.
Występowanie
Siatka Dematerializująca najczęściej występuje na końcu Komór Testowych, znajduje się ona tam, aby Aparatura Podstawowa (kostki itp.) nie była wynoszona poza komorę testową.Siatki Dematerializujące występują jako element testowy już od początków Aperture Science Innovators. Wyglądem zmieniły się ale cząstki wyglądają podobnie.