User:Sven/Sandbox
From the Portal Wiki
Portal Pinball page
Portal Pinball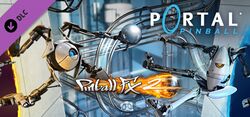 ---
Basic Information
Developer:
Publisher:
Distributor:

XBLA (online)
Steam (online)

Released:

Microsoft Windows:
Android:

Modes:

Singleplayer

Genre:

Casual, Simulation

Ratings:
Requirements:

Windows

Windows XP, Windows Vista, Windows 7, Windows 8
CPU: Single Core @ 1.6GHz (Dual Core @ 2.00GHz recommended)
Memory: 512 MB (1 GB recommended)
Graphics hardware: DirectX 9 video card
Sound: DirectX compatible sound card
Network: Internet Connection

Android

Android 4.0
Application Permissions
Portal Pinball is paid DLC for Pinball FX2 by Zen studios. It features a pinball "board" styled after a Portal 2 testchamber in disrepair, and includes cameos from several members of the cast of the Portal series including Chell, GLaDOS, Atlas, P-Body, and Wheatley. Test elements from Portal 2, such as Excursion Funnels and Turrets, make their appearance as well. On mobile, Portal Pinball is available as a standalone title.
Merchandise template testing
Merchandise Page
"

Federal Superfund regulations require us to inform you that you must now leave the theater, as measuring the effects of asbestos-lined promotional clothing is not part of today's presentation. Enjoy your free t-shirt. Goodbye.

 Click to listen

— GLaDOS

"

Since the release of Portal 2, various pieces of merchandise such as posters and clothing have been made available for purchase through the Valve Store. Most of the merchandise depicts the various characters, logos, and equipment found throughout the Portal universe.
List of Merchandise
Accessories
| | |
| --- | --- |
| Aperture Knitted Scarf | Aperture Water Bottle |
| Snuggable Companion Cube Plush | Catch Me Mousepad |
| Portal 2 Wheatley Plush Key Chain | Turret Water Bottle |
| Huggable Companion Cube | Classic Aperture Logo Mug |
| Wheatley Plush | Companion Cube Poem Mousepad |
| Portal Aperture Laboratories Messenger Bag | Companion Cube Wallet |
Apparel
Jacket - Programmer


Jacket - Engineer


Jacket - Scientist Womens

Prints
| | |
| --- | --- |
| Portal 2 Tribute | Terminal Velocity |
| Aperture Crest | Chell's Cake |
| Porting | There is No Escape |
| The Cake is a Fabrication | Catch Me |
| Companion Cube Poem | Portal 2 Game Print |
Discontinued merchandise
Discontinued accessories

Aperture 1940s Pint Glass  

Test Chamber Sticker Sheet  

Underground Vinyl Sticker Sheet  

Lithograph - Approaching Wheatley  

Lithograph - Destroyed GLaDOS  

Lithograph - 70's Style Movie Poster  

Portal 2 Chell  

Aperture Laboratories  

Aperture's Requiem  

Portal Intro Study  

Co-op Bot Poster  

Portal 2 Collector's Edition Guide  

Aperture Cell Phone Case (Black on White)  

Aperture Cell Phone Case (White on Black)  

Inflatable Space Core  

Aperture 1970s Vinyl Decal  

Aperture iPad Sleeve  

Companion Cube Inflactable Ottoman  

Original WCC Key Chain Plush  

Aperture Lanyard  

P-BODY ACTION FIGURE 7"  
Discontinued apparel

Blue T-shirt  

Test Chamber Sign Hoodie  

P-body T-shirt  

Chell Graffiti Unisex T-shirt  

Lab Rat T-shirt  

Aperture 1940s Logo T-Shirt  

Three Turret Moon T-Shirt  

Turret Schematic T-Shirt  

Women Aperture 1940s T-Shirt  

Appear Infographic T-Shirt  

Atlas T-Shirt  

Aperture 1970s Logo T-Shirt  

Aperture Track Jacket  

Women Aperture Tank Top  

Chell Graffiti Womens T-shirt  

Space Core T-Shirt  

GLaDOS T-Shirt  

Aperture Athletic Shirt  

Aperture Athletic Shirt - Womens  

Device Manual T-Shirt - Womens  

Aperture Logo Hooded Sweatshirt (zip)  

Companion Cube Tube Fit and Flare Dress  
Discontinued prints

Extra Earth Outsourcing Initiative Print  

Aperture Product Catalog Print  

Aperture Design Center Print  

Lithograph - Thermal Discouragement Beam  

Lithograph - Animal King  

Underground Poster Kit  

1970s Mannequin  

1980s Four Office  

1980s Boss Robot  

1940s Aperture Signs  

Courage is Not Absence of Fear Poster  

Not Never But Now Poster  

Aperture Laboratories Cake Poster