User:Sven
From the Portal Wiki
"

That isn't science...

— GLaDOS on hat-based war simulators.

"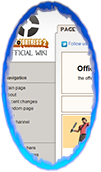 This user supports

The Two Wiki Union






As of August 14, 2018,
I have been a Portal Wikipedian for 7 years, 2 months, and 4 days.









Joke articles and minor stuff
The Bird ← Someone needs to kill this damn thing
Please leave a message on my talk page if you need to contact me. I'm often busy with school/work and can't check the wiki as often as I'd like.