Portal/de
From the Portal Wiki
Portal
Siehe auch: Portale (Spielmechanik)
"Dies ist ein Experiment, wie viel Denkzeit ihr für die wertlosen Dokumente verschwendet. Die richtige Antwort lautet: null Sekunden."
Diese Seite kann enthalten: VIELE SPOILER.


Du kannst Spoiler mit dem "Spoiler"-Knopf am Kopf jeder Seite umschalten. Versteckter Text kann auch durch Markieren sichtbar gemacht werden.



"

Das Portal öffnet sich in 3, 2, 1.

 Anhören

— GLaDOS

"
Portal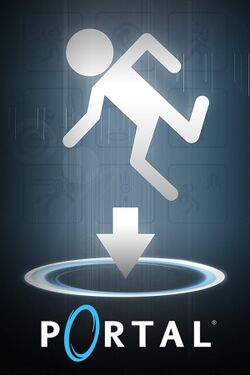 ---
Informationen
Entwickler:
Publisher:

Valve Corporation
Microsoft Game Studios (XBLA)

Verkauf:

Electronic Arts (Einzelhandelsversion)
Valve Corporation (Digitalversion)

Engine:
Erschienen:

Microsoft Windows and Xbox 360 (Orange Box retail)

Nordamerika: 10. Oktober 2007
Europa: 18. Oktober 2007
Australien: 18. Oktober 2007

Microsoft Windows:
PlayStation 3:

Nordamerika 11. Dezember 2007
Europa 14. Dezember 2007
Australien 20. Dezember 2007

Microsoft Windows:

(Retail Stand-Alone): Nordamerika 9. April 2008
Rest der Welt 11. April 2008

Xbox Live Arcade:
Mac OS X:
Linux:

Modi:

Singleplayer

Genre:

First-person puzzle/platformer

Einstufung:

USK: 12
PEGI: 12
ESRB: T
OFLC: M

Voraussetzungen:

Windows

Windows 7, Windows Vista, Windows XP
CPU: 1.7 GHz (3.0 GHz empfohlen)
RAM: 512 MB (1 GB empfohlen)
Grafikkarte: DirectX 8.1-fähige Grafikkarte (DirectX 9-fähige Grafikkarte empfohlen)
Netzwerk: Internetverbindung

MacOS

Betriebssystem: Leopard 10.5.8, Snow Leopard 10.6.3
RAM: 1 GB
Grafikkarte: NVIDIA GeForce 8 / ATI X1600 oder besser
Netzwerk: Internetverbindung

Xbox 360
PlayStation 3
Nvidia Shield
Nintendo Switch
Dieser Artikel informiert über das Videospiel ,,Portal". Für mehr Informationen über die Spielemechanik, siehe Portale
Portal ist das erste Spiel der Portal-Reihe. Es ist ein Singleplayer Videospiel aus dem Genre Puzzles, entwickelt von Valve und erschienen als Teil der Orange Box am 9. Oktober 2007 für Microsoft Windows und die Xbox 360. Die PlayStation 3 Version erschien später am 11. Dezember 2007. Portal war ebenfalls Teil der Mac OS X Unterstützung für Steam am 12. Mai 2010. Zur Feier dieser wurde Portal bis zum 24. Mai 2010 kostenlos an Steam Benutzer auf einer Werbeseite von Steam verschenkt. Desweiteren wurde Portal, im Rahmen des Learn with Portals-Programm 2011, erneut für eine bestimmte Zeit kostenlos herausgegeben.
Am 9. Februar 2022 wurde die Portal: Begleiterkollektion für die Nintendo Switch angekündigt. Sie erschien am 28. Juni 2022 und enthielt Portal sowie Portal 2.
Zusammenfassung
Hauptartikel: Story {{