Czapka Mann Co.
From the Portal Wiki
Czapka Mann Co.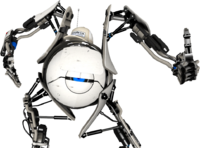 Podstawowe informacje
Przedmiot
"

For many of you, I realize 60 dollars is an unprecedented windfall, so don't go spending it all on... I don't know. Caroline, what do these people buy? Tattered hats? Beard dirt?

 Kliknij, aby wysłuchać

— Cave Johnson

"
Czapka Mann Co. jest nakładanym na głowę przedmiotem dla Atlasa oraz P-body'ego. Wygląda jak biała bejsbolówka z logo Mann Co. oraz ich motto na niej: "Sprzedajemy swoje produkty i wdajemy się w bitwy".
Ta czapka jest dawana graczom, którzy mają Czapkę Mann Co. w Team Fortress 2.
Galeria
Czapka Mann Co.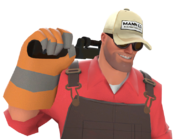 Inżynier
z Team Fortress 2 z założoną Czapką Mann Co.  
Zobacz także