Trading
From the Portal Wiki
"I can't get over how small you are!"
This article is a stub. As such, it is not complete. You can help Portal wiki by expanding it.


Trading is a currently unreleased mechanic within Portal 2 that will allow players to exchange Items from their Backpack with other players. There is no known date for when Trading will be implemented to the game.
Gallery
Trading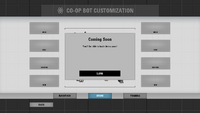 The alert from trying to access Trading with Portal 2.