Shredder
From the Portal Wiki
"I can't get over how small you are!"
Dit artikel is een stub, dat betekent dat het nog niet af is. Je kan de Portal Wiki helpen door uit te breiden.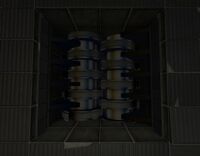 De shredder is een groot paar draaiende messen gebruikt om Aperture Science apparatuur te vernietigen. Het werd voor het eerst gezien in The Surprise met het vernietigen van uitgeschakelde turrets. Wheatley probeert een paar te gebruiken om Chell te doden in The Itch nadat ze manoeuvreert langs zijn turrets.