Test Chamber 06
Jump to navigation
Jump to search
"I can't get over how small you are!"
This article is a stub. As such, it is not complete. You can help Portal wiki by expanding it.


"Estás usando este software de traducción de forma incorrecta. Por favor, consulta el manual. - Wheatley"
This page is in the process of being translated into Japanese.
If you can speak Japanese, post on the talk page or speak to those who have contributed to the page (by viewing the page history).

このチェンバーはゲームの7番目のチェンバーで、初めて高エネルギー球体やポータルの作れない壁面が登場します。
危険
攻略
攻略動画

Download demo file
ギャラリー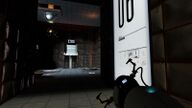 Pre-release Test Chamber 06  

同上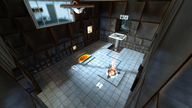 全景